Establishing a successful e-commerce business requires a well-planned strategy. The entire order management process must be seamless to avoid errors and ensure customer satisfaction, which is vital to building a positive brand image. High profits are a direct result of happy customers, and a single negative review can damage the business's reputation.
Struggling to take a break from your busy e-commerce business? Don't worry, Amazon's Vacation Settings have got you covered. With the help of this feature, Amazon is empowering its sellers to manage their listings even during their time off. The Vacation Mode on Amazon provides the perfect solution for balancing work and leisure, allowing sellers to temporarily deactivate their listings. So, if you require a break but don't want to miss out on any business opportunities, turn to Amazon's Vacation Settings for a worry-free holiday
Ensuring a positive customer experience throughout the order fulfillment process is critical to the success of an e-commerce business. Streamlining these activities is crucial in avoiding negative feedback from customers. Before taking advantage of Amazon's Vacation Settings and taking a break from selling, it is important to consider all the necessary steps that need to be taken to ensure a smooth and seamless process.
Before Changing the Amazon Vacation Settings
Fulfill the Pending Orders:
Before setting the listings to inactive, you need to ensure that all the pending orders are fulfilled and shipped without fail. The pending orders are not canceled even if you change the listing status.
Change your Listing Status Ahead:
Do not wait until the last minute. Change your listing status to inactive at least 2 days before you hit your vacation. This allows you to conquer painful and chaotic last-moment order processing as Amazon removes your listings from the product page.
Set An Automatic Response:
To prevent unnecessary logistic bottlenecks in your Amazon seller account, set an automatic response to notify your customers that you're away. The response should let them know how long are you restraining from taking orders.
During the Inactive Period
Respond to Buyer Requests within the pre-defined time window: Process the return requests without fail. Yes, even during inactive periods, Amazon requires you to respond to customers' messages within the agreed-upon time frame. Failure to do so may result in a negative impact on your seller's performance. Engaging customers with enough information make your brand interactive and creates value for your business.
Avoid logging into multiple devices as it may lead to account suspension.
During the inactive period, you still have the leverage to create and edit listings. Changes are reflected once the status is set to 'Active.
Track your Seller Central Account Efficiently:
It's important to regularly monitor your Amazon seller account, including using the mobile app, to stay on top of customer inquiries and maintain a positive performance as a seller. By checking your account frequently, you can respond promptly to customers' messages and keep your account in good standing with Amazon.
Plan with Automation: 
Yes, using automation tools such as automated email responses and alert monitoring can help you effectively manage your Amazon seller account during inactive periods. By setting these automated systems in place, you can communicate with customers, respond to inquiries and claims promptly, and maintain a positive relationship with your buyers, even if you are not actively managing your account. It's important to proactively address any issues that may arise during your inactive period to maintain your seller performance and reputation.
Remember: Vacation mode affects your FBM (Fulfilled By Merchant) orders only. For FBA (Fulfilled By Amazon) sellers, Amazon keeps your listings active and continues to sell and ship orders during vacation mode too.
How to Change the Amazon Vacation Settings?
To use Amazon's vacation mode, follow these steps:
Go to "Settings" in your Amazon seller central account.
Select "Vacation Mode."
Turn on the toggle switch to activate vacation mode.
Choose the dates you want to turn off your listings.
Optionally, you can set a custom message to display to customers while your listings are inactive.
Save your changes.
Amazon's vacation mode is critical to remove all the open and seller-fulfilled listings temporarily. Once you are back from holiday, you do not need to re-list the listings. Rather, turn off the vacation mode to make all your listings visible and active again. Use this Amazon seller central holiday settings even if the seller is off for a short duration of a week or less. Take a glance into the details of how to manage your vacation mode on Amazon.
How to turn on the Amazon Vacation Mode?
Go to the Seller Central console, and click on Settings in the top-right location. Go to Account Info from the available drop-down options.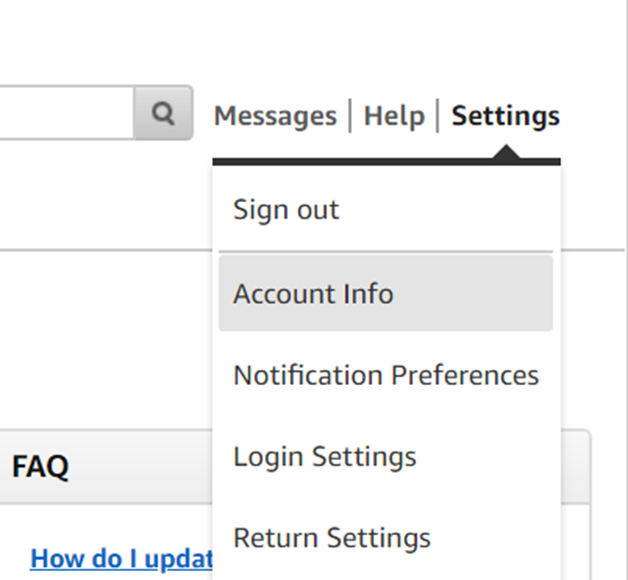 In the Account Information section, go to the Listings Status, then click on Going on vacation.
On the Vacation Settings page, find the listing status of all the marketplaces you sell.
Here, click the Inactivebutton and save the option.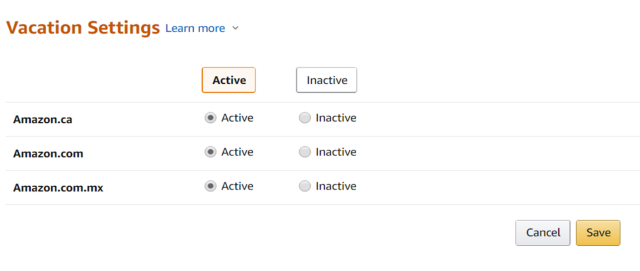 In case you sell on diverse marketplaces, click the Inactive radio button next to your marketplace individually and then click the Save 
Changing the status of the listings to inactive mode prevents you from generating any new sales. Therefore, ensure that this process is done for at least 2 days to remove the listings from being visible on a product details page and search results.
Usually, it takes about 15 minutes for the changes to reflect on the product page. However, Amazon suggests waiting for at least an hour to verify the changes in the product details page and search results.
How to Turn off the Vacation Mode on Amazon?
Once the seller is ready to sell again, he needs to repeat the above steps to reactivate the amazon seller central account. To add your seller listings, select the Active button in the vacation settings page and then click on Save. All your listings are active and visible in the search results within an hour.
An Alternative way to handle your Vacation Mode on Amazon
How to change Inventory Settings?
Using inventory settings, you can handle any order requests without making any changes to the vacation settings.
On the top-left of your seller central account, go to Inventory -> Click on Manage Inventory
Here, set Availableto 0.
Enabling this option prevents the buyers to place any further orders. Once you are ready to sell, go back and change the inventory value to 1 or more.
Changing the Handling Time
After the Amazon handling time settings were altered recently, you can easily manage the delivery time of your listings. This is a great option for those who are planning to keep their vacation short. By extending the handling time, a seller can even avoid negative feedback depending on the amazon product category.
You can change the handling time by going to the General Shipping Settings Section of the Shipping settings in the Settings tab.
From here, changing the current handling time depends on the method you set the handling time earlier. You need to check the listings individually if they are updated one after the other.
Go to Inventory -> Manage Inventory -> Action -> Edit Details -> Handling Time.
Change the time separately as per your schedule.
In case, if you have uploaded your listings using an excel file, change the handling time in the same sheet and upload it again.
Here, Click on Inventory -> Add Products via Upload -> Download Template.
Changing the handling time is quite flexible to revert to your default settings once you are back from your holiday. Also, this option is suitable for a short vacation as the customers may not entertain a longer delivery time. And, it can end up attracting negative reviews from buyers.
Nutshell
Amazon vacation mode allows sellers to temporarily pause their business activities on the platform while still maintaining their brand image and customer retention. It provides options for sellers to manage their orders and maintain their rankings, ensuring a seamless shopping experience for customers even during the seller's absence. By choosing the best option that fits their needs and holiday, sellers can ensure that their business runs smoothly even during their time off.